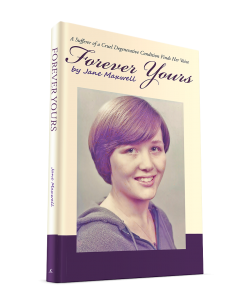 Having been effectively silenced for many years by ataxia as her symptoms progressed, Jane Maxwell's ability to communicate was restored in 2011, through technological advances that enabled her to 'speak' via a computer, using very slight movements of her chin. The assistive technology Jane received changed her life dramatically and gave her real hope for the final five years of her life. Being able to communicate again in writing, after so many years, meant everything to Jane. In the midst of losing her voice, her hearing, and the use of her arms and hands, Jane decided to write a memoir: her story, in her own words.
Forever Yours had been the inscription Jane and her husband Alan had chosen for their engagement rings back in 1977. Jane's book was to be "a love story but with a twist." Together, and in faith, Jane and Alan were to learn that the deepest joy can come from the darkest of places, including in times of trial and pain.
Church Without Walls – Interview with Alan Maxwell 
Alan's interview on Revelation TV, talking about 'Forever Yours'. Broadcast by the channel during their live church service, 'Church Without Walls', on Sunday 25th February 2018.
Alan writes:
"I strongly recommend viewing the service in full at some point. It was such a lovely programme to watch and I feel so honoured to have been invited to take part, to talk about my darling wife and her book. I pray many are blessed by this church service and are touched by Jane's story of enduring love and coming to faith."
Church Service in full (interview at around 21 minutes):